DES MOINES, Iowa – ChildServe is pleased to announce the organization named its annual recipients of this year's ChildServe Champions award on Wednesday, June 14. The award is designated each year in two categories, one for corporations, foundations and organizations and the other for individuals or families. This year both SVPA Architects and Chris and Mary Risewick were named recipients, respectively. The award recognizes ChildServe's most devoted supporters for advancing its mission through generosity, service and inspiring others to action.
"We are inspired by the generosity of supporters like SVPA Architects and Chris and Mary Risewick who have championed ChildServe's mission for decades," said Dr. Teri Wahlig, ChildServe CEO. "These partnerships enable us to serve and transform the lives of even more Iowa children with special healthcare needs and their families each year. It never ceases to amaze me when we consider all our donors have given of themselves, their time, talents and resources to support ChildServe."
SVPA Architects
SVPA Architects has supported the mission of ChildServe not only as a longstanding vendor and collaborator, but also in the capacity of volunteer service and philanthropy. In total, SVPA Architects has donated a cumulative $230,000 to ChildServe since 1999. SVPA Architects team members have spearheaded ChildServe's Bubble Ball Décor Committee for more than a decade and been instrumental in bringing various projects to life, including Jojo's Pediatric Rehabilitation Unit, Variety Behavioral Health Clinic, ChildServe Concussion Center, as well as additional Johnston campus expansion projects.
"It has been an absolute privilege for the last 20 years to help ChildServe create spaces of healing, inspiration and support for the children and families they serve," said Sara Herman, SVPA Architects Vice President, Director of Interior Design. "It has been so rewarding for our team to come back to the facilities and see children interacting with the designs, and to see staff using the building to support the therapy and care of these children."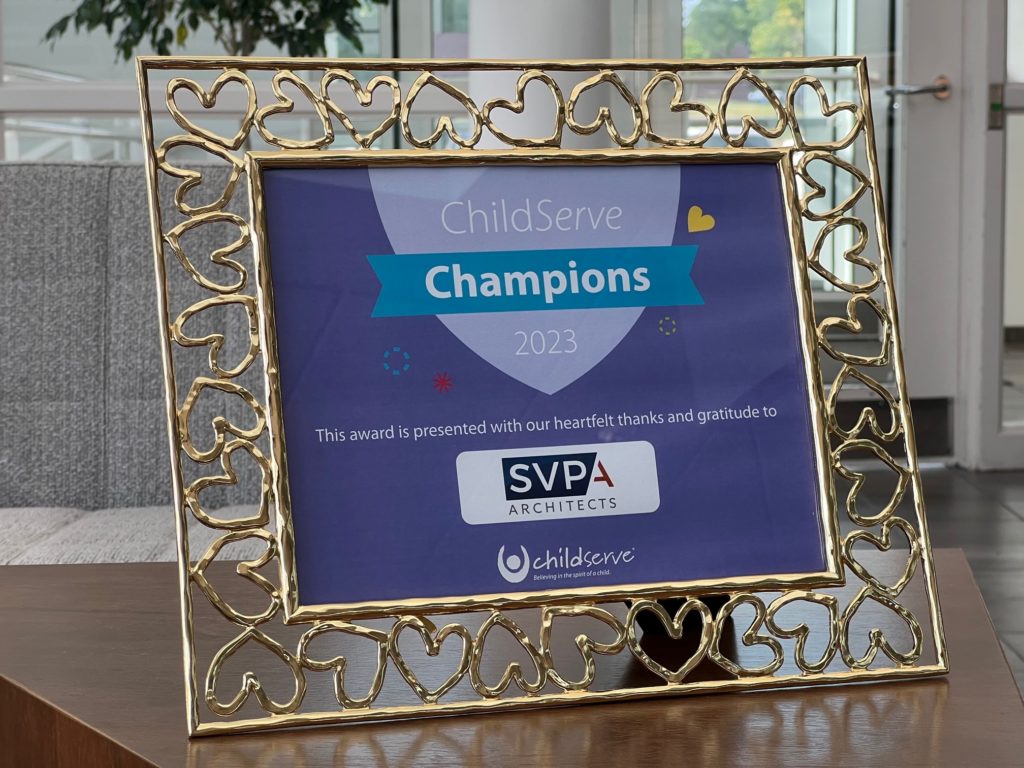 Article: Recognizing Our 2023 ChildServe Champions – ChildServe
About ChildServe
ChildServe is a specialty pediatric healthcare provider for children and young adults with special healthcare needs. For over 95 years, the organization has partnered with families to help children with special healthcare needs live a great life. ChildServe provides more than 30 services to over 5,600 children in Iowa each year. The organization's array of services are interwoven and streamlined, so families can get many of their child's needs met in one location. ChildServe's key focus areas include: complex medical care, pediatric rehabilitation, autism and behavioral health, and community-based services.